Introducing to you the V.4 Myle device, the most classic device for magnetic vape pods that have been topping the charts of online sales in Dubai, Abu Dhabi, Ajman, and Sharjah for the past couple of years. With a completely handy design and functioning, these Myle Vape devices were developed to satisfy the needs of smokers at an extreme level.
The Myle V4 device is a rechargeable e-pen, or electronic cigarette, that soothes you with your preferred flavor, filled with either 2 percent or 5 percent SaltNic e-juice. This V.4 device can deliver an amazing experience with high quality, maximum taste, and satisfying vapor production. The device is all about convenience and ease of use, all in one package. In this article, we have reviewed the V.4 Myle device, and we think you'll love it! We will discuss the Myle V4 device's features and offer our assessment of its overall performance in this review. There are 8 colors to consider. Keep watching to the finish.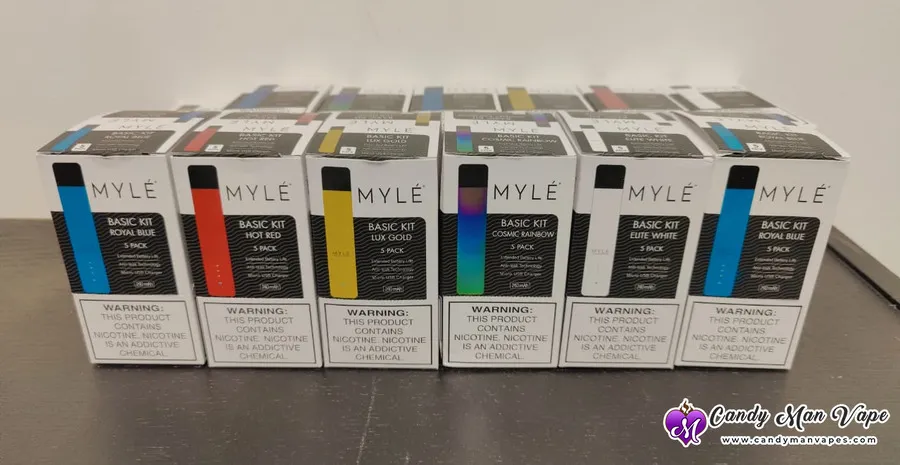 What Is So Special About The Myle Vape V4 Device?
The Myle V4 Magnetic Vape Device is the most suitable and easy way to manage nicotine consumption for about 240 puffs. The construction and the magnet used in the device are for the easy yet perfect arrangement of the vape pods. This battery-powered device uses its power to pull e-liquid and vaporize it.
Specifications Of Myle Vape V4 Device
| Titles | Specifications |
| --- | --- |
| Product/Device Name | Myle Vape V.4 device |
| Color | 8 Colors |
| Battery | Extended battery life |
| Warranty | 1-year warranty |
| Size | (in.) w/pod: 3.93 H x 0.74 W x 0.28 D |
| Version | Version 4 device |
| USB charger | 1 micro USB charger |
| Total Puffs | 240 Puffs |
| Technology | Anti-leak technology |
| Compatible with | Myle V4 Pod |
| Price | Starting from 80 AED |
Note:
Be sure to remove the rubber stoppers from the top & bottom of the Pods before inserting them into your device.
Myle V.4 Magnetic Device Colors Review
As we all have different choices of lifestyle and fashion, we're glad to review the very stunning colors of these vape devices. The sleek, elegant, and sustainable system is available in eight different varieties of colors. These astonishing colors are not only available in a perfect-fit body for vape pods, but they're also at such amazing discounts! Get your hands on them as soon as possible.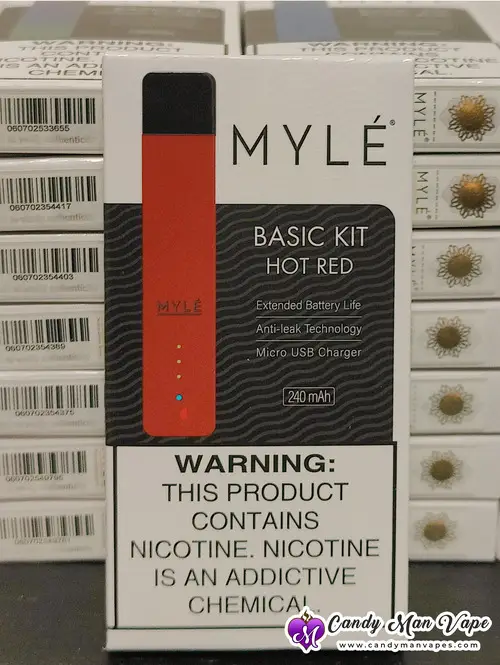 Hot Red Myle V.4 Device : It comes with a magnificent design that uses battery power to vaporize the e-liquid. This red matte-finished e-pen is simple and convenient to use. The hot red brings the bold it.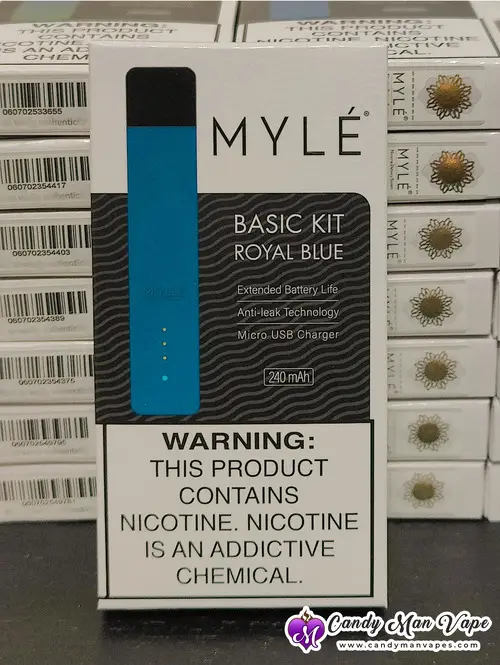 Royal Blue Myle V.4 Device : The royal blue matte finish e-pen delivers an enigmatic feel to a device. It is made of a special magnet providing a premium experience. Also, we found that it is a portable device that enables the user to enjoy them anywhere, anytime.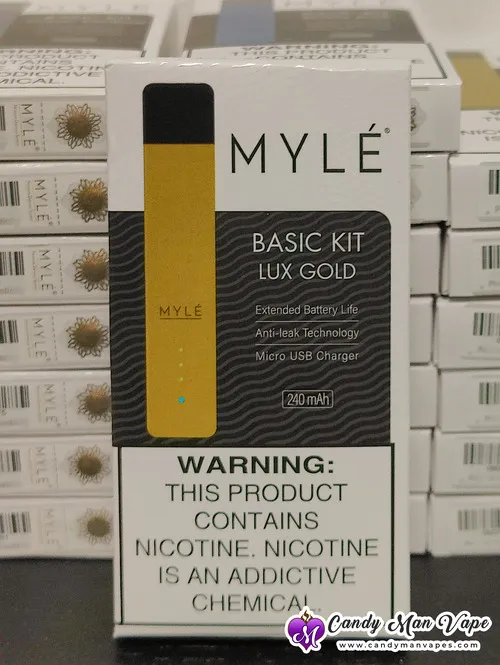 Lux Gold Myle V.4 Device : It is a matte-finish e-pen that bundles simplicity as well as luxury. This e-pen is always in high demand, with a limited supply, as it provides an everlasting feeling of satisfaction.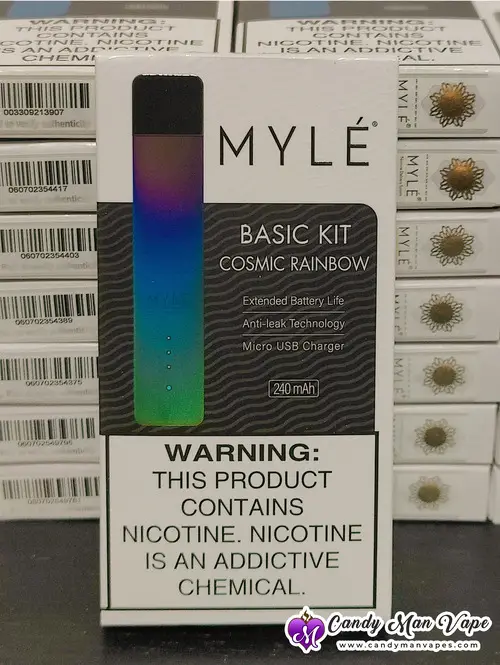 Cosmic Rainbow Myle V.4 Device : Cosmic Rainbow e-pen is a matte finish magnetic device designed to prevent pod leakage when switching pods. It provides a stupefying experience thanks to its improved durability and portability.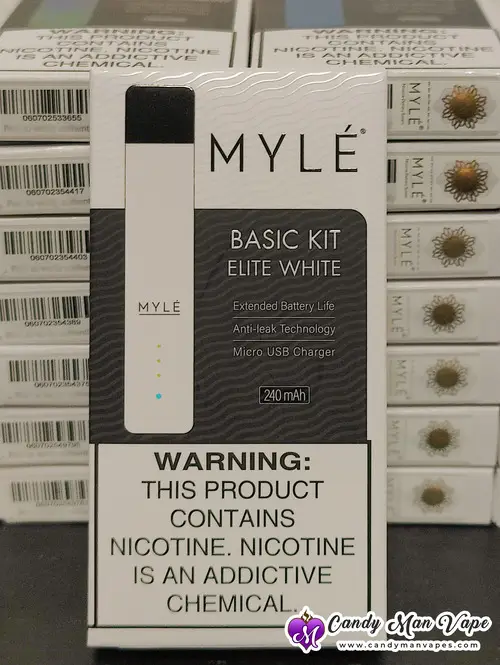 Elite White Myle V.4 Device : It is a matte finish device with leak-proof technology and a simplistic design that is rechargeable. This vape device can be used repeatedly. Elite White V.4 has been designed keeping simplicity and convenience in mind.
Jet Black Myle V.4 Device : The Jet Black MYLE V4 device is the most expressive and elegant device made out of a special magnetic material that provides a satisfying experience. In our opinion, it is designed to help smokers with various health issues.
Classic Silver Myle V.4 Device : It is a sublime matte finish magnetic device that is built using high-quality materials that provides a premium-grade visage. This color brings a simple yet significant look to the device.
Aqua Teal Myle V.4 Device : Aqua Teal is a sleek matte finish e-pen with a technology that prevents leakages while switching and has a high level of durability. We found that this color is comfortable and easy to use.
Why Choose Myle V.4 Device?
If we have a closer look at our V.4 vape device, it is designed with complete leak-proof technology, which prevents pod leakage while switching the pods. Myle Vape devices in the UAE provided by Myle Vapor Dubai can provide 240 puffs of nicotine in a durable, sleek, and sustainable system.
The best part about the V.4 device is its 1-watt micro USB charger, which recharges the device so you can enjoy the full benefit of the flavoring in the e-juice from the vape pods. The adaptability and easy magnetic connecting system with your favorite vaping pods make it the best for your most realistic vaping experience. This product is innovative and extraordinary due to its extended battery life. It is also unlike any other vaping device available in the market.
In addition, the Myle Vape Devices V.4 are one of the safest and best options for people looking to quit smoking or reduce its harmful effects. These vape devices are designed for use with MYLE V4 Pods, which provide 99% pure nicotine without many harmful chemicals and adulterants found in cigarettes. This helps in the prevention of fluid and toxin buildup produced while smoking a cigarette and reduces the number of health-related issues.
Frequently Asked Questions
Being one of the most popular, easy-to-use, and feasible vape devices, Myle Vape did bring out the best for you in quite a reasonable price range, serving maximum taste and satisfying vapor production. If one is looking for a better way to get nicotine without the side effects of cigarettes, Myle Vape is surely the one to grab onto!
As simple as the construction of this device is, we're here to answer the most frequently asked questions about it. It's quite important to check the FAQs and learn to properly use the device for your extraordinary vaping needs.
1. Why isn't my Myle Vape device turning on or off?
While getting started with your Myle Vape devices and your preferred flavor filled in the pods of the device, make sure the device version V.4 matches the version of the pods. Turn it on by pressing the ON button, and the same by turning it OFF. The blue LED shows the device is working. The 3 Green LED light indicates the battery percentage, so do make sure that your device is charged and properly functioning. Any smoke or swelling implies not using the device and contacting your Myle Vape customer service.
2. How do I carefully replace the vape pods in the device?
The easy construction and sleek design of the Myle Vape device make it easier to change or replace the flavor vape pods. The magnetic effect of the device helps in the easy settling of the pods. Press the top of the pod inside the device until the click sound is heard. If not, take the pods out and try it again. Make sure the versions of the pods and the vape device match each other.
3. How long do I recharge my Myle vape device?
While using the Myle vape device, it is necessary to make sure of the charging capacity of the device. The three green LED lights indicate the charging capacity of the device. If all three LED green lights are lit, that means the battery percentage is 100. If two green LED lights are lit, that means the battery is at 45%. If only one green LED light is lit, that means there is only 10% charge left in the device, so you will have to recharge the device.
4. What is the maximum working duration of the Myle vape device?
The Myle vape device is consistent in working conditions, as expressed by the green LED lights. Once fully charged, the Myle vape device can last up to one and a half days. Make sure the device is not heating up too much.
5. Do I need to clean my rechargeable V.4 device?
The most exclusive design of the Myle vape V. 4 device makes cleaning with normal cotton buds convenient. Make sure you don't press hard on any of the device units. Keep them clean, dry, and stored in a dark space. Do not let them be in direct exposure to sunlight. Avoid an unhygienic environment so that no microbes grow on the device.
6. What should I do if the Myle vape device doesn't produce enough vapor?
Any person can experience less vapor production from the device. In such a case, you will have to ensure that the device is charged and in proper working condition. Do not use the device if any type of leakage, swelling, or unwanted smoke comes up. Try replacing the pods; if the problem still exists, contact Myle Vape V.4 device customer service or replace the old device and pods with a new one.
7. Can I use any other vape pods in my Myle device?
It is better if you use the Myle vape V.4 pods with the Myle vape V.4 device, which is of the same version. Using any other vape pods may harm the device and lead to its improper usage. This can give you up to 240 puffs each.
8. How do I store my Myle vape device when it is not in use?
The easy-to-use and elegant Myle Vape Device v.4 is convenient to store in cool, dry, and dark places that are devoid of direct exposure to sunlight. The device must be stored in a condition where the temperature does not reach below zero degrees Celsius.
9. Are Myle vaping devices better than cigarettes?
Well, of course, if you look into the system of Myle Between vape devices and cigarettes, the better option will always be vape devices. They are convenient to use and produce fewer harmful effects than cigarettes. The impure nicotine used in cigarettes and its ability to filter harmful chemicals make them more toxic. Whereas in the vape pods, 99% pure nicotine is used.
10. Where can I buy the Myle Vape Device V.4?
The Myle Vape Device V.4 is the latest version and is available at our online stores at an amazing discount. It is available in 8 different and attractive colors at our store; grab your favorites now!